The Patron's Lunch will be held this Sunday on the 12th June. 10,000 people will congregate on The Mall to celebrate the Queen's 90th Birthday. Since most of the tickets for this event were released to the Patron's Organisations, most of us will not have managed to bag ourselves one.
The Patron's lunch is the culmination of a weekend of celebrations to recognise the Queen's service to the community throughout her 63 year reign. The lunch will be a huge feast made up of food sourced from all over the country. Marks and Spencer are providing the wicker picnic baskets for the guests, included in the tickets, priced at £150.00 each.
The contents of each hamper is as follows:
The Patron's Hamper Main Menu
Scottish Smoked Salmon mousse with hot and cold smoked salmon
Creamy hot smoked salmon mousse topped with Sandringham oak smoked Lochmuir salmon
———-
Pembrokeshire chicken roulade salad
Roasted free range chicken roulade with Wye Valley asparagus and minted Cornish potato salad with pea shoots, creamy mayo and a herb drizzle
———-
'Posh' raspberry Royale
Norfolk Tulameen raspberries & a strawberry jelly, layered with a sponge & clotted whipped cream hand decorated with a chocolate plaque
———-
Best of British sandwich selection
Roast Northern Irish beef with horseradish mayonnaise & baby watercress on soft white bread
Smoked Scottish Loch Etive trout with a dill dressing and watercress on soft wholemeal bread
Farmhouse mature Welsh cheddar with Kentish Claret tomatoes and Windsor apple chutney on soft malted brown bread
Applewood smoked Wiltshire ham with Tewkesbury mustard on soft white bread
———-
Mini piccalilli pork pie
Our expert bakers have been making pork pies since 1824 using select cuts of British pork encased in hot water crust pastry and hand finished with tangy piccalilli
———-
Classic duo of butterfly cakes
Light vanilla sponge cake topped with delicious strawberry frosting and a moist lemon cake topped with lemon frosting, both finished with delicate butterfly wings
———-
British cheese & seeded oat cakes
Our exclusive Cornish Cove mature cheese and classic Red Leicester
With Scottish seeded oatcakes
———-
Pressed Windsor apple juice
These beautiful red apples have a wonderful parentage; a cross between Cox's Orange Pippin and Duchess of Oldenburg varieties, resulting in a delicious juice. The fruit is pressed in Suffolk exclusively for M&S.
———-
Pimm's
Bottle of water
It is hoped that families and communities up and down the country will join the celebrations at home by organising their own events.
If you are thinking of organising your own small celebration, like me, read on for some inspiration.
Decorations
There are loads of online stores on the internet that sell Union Jack bunting and flags, but if you are on the last minute, I found a great selection in my local
Morrison's Supermarket
at the weekend. I'm not going mad with the decorating, I'm just going to put a bit of bunting up to set the scene.
Food
Marks and Spencer will be selling food items, in store, that are similar to those set out in the menu.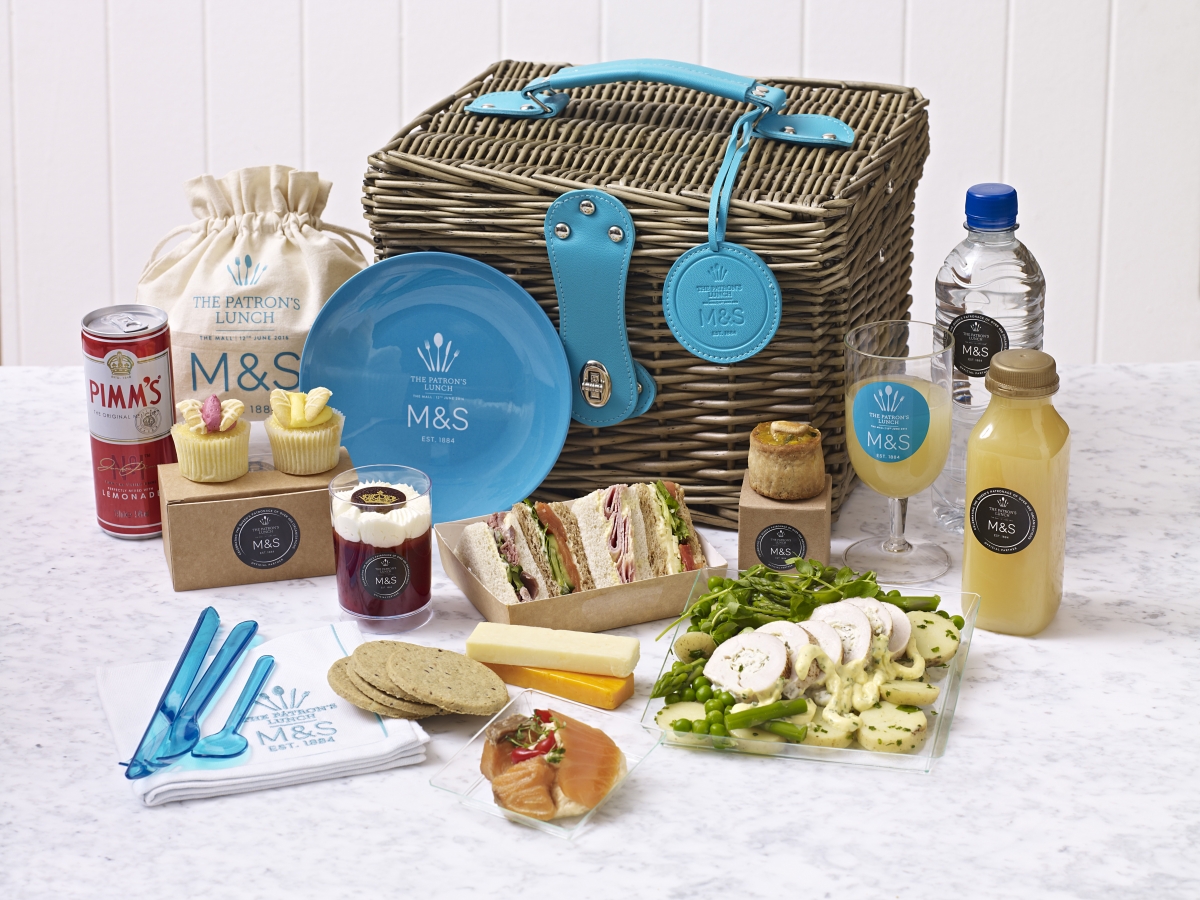 Just this last weekend, I saw mini cakes for afternoon tea, on sale and other treats too. I plan to have a smaller scale picnic in the style of Afternoon Tea. Tesco do a good range of mini cakes for your cake stand too.
The Plan
We'll probably watch some of the event unfolding on the television and then, if it is nice, I will set out the picnic on the grass for the kids. I think they'll really enjoy it.
If you would like more information about the Patron's Lunch, there is a website dedicated to the event.
Have you got any plans to celebrate on Sunday. Why not join in with a picnic of your own?
Nicola x